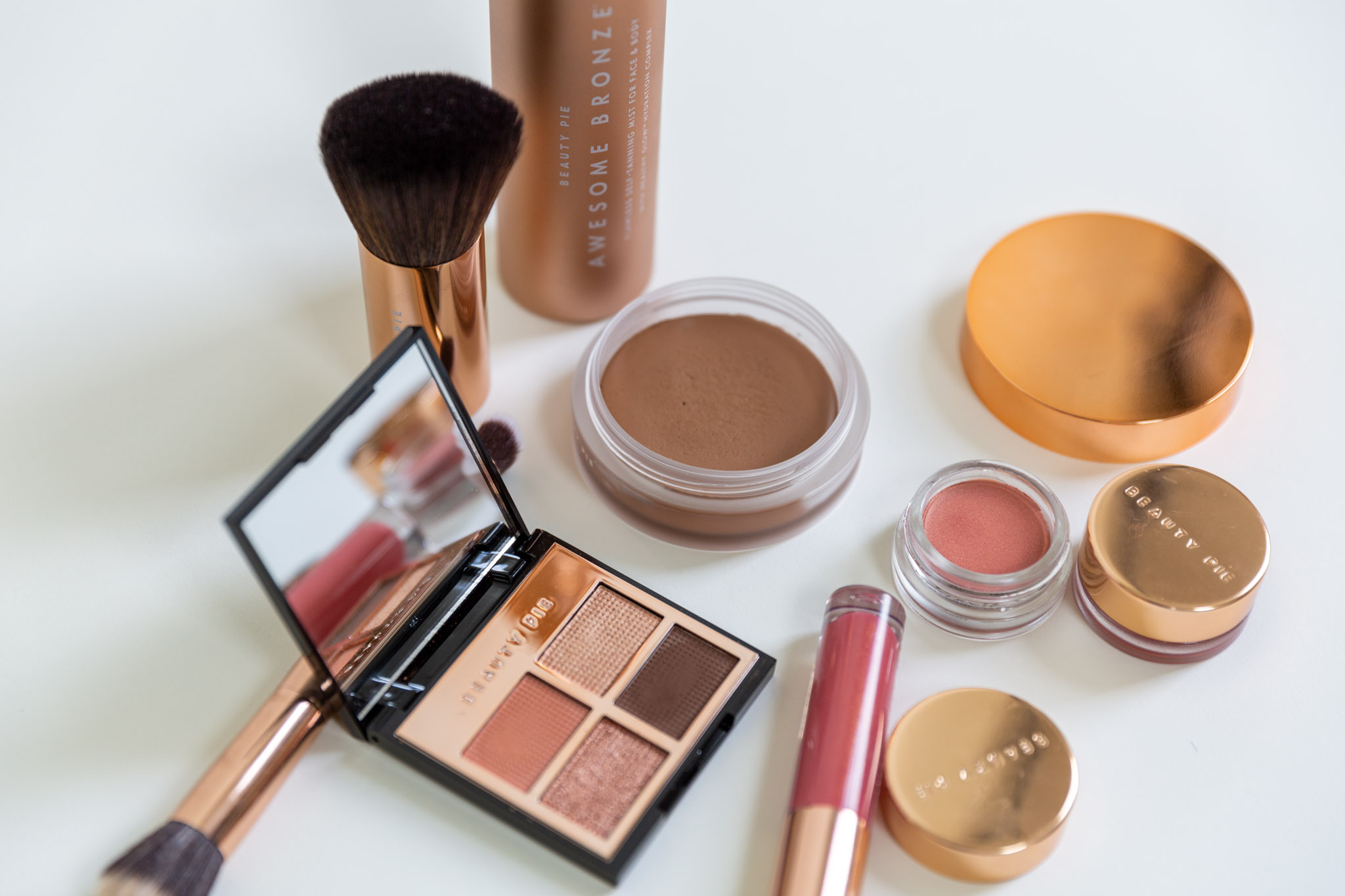 *This post contains a collaboration with Beauty Pie & gifted products
Every year the Beauty Pie* summer launch gets better and better. They just know how to do creamy, bronzey goodness so well and this year's drop is no exception. They are THE place for luxury makeup, without the mark-up and they never miss a beat. I'd need fingers AND toes to count the amount of friends and family I've turned onto this brand and only the other day my Mum was waving a bottle of their SPF50* in my face and raving about how fab it was. So here's the down-low on what I'd pick out as my top five products from their latest release…
*Awesome Bronze Flawless Self-Tanning Mist for Face & Body – £29 for members (£100 for non-members). As a big fan of the Awesome Bronze Tanning Drops*, I was very excited to see this new addition to the line-up. It turns out it's even easier to apply and gives the same sun-kissed results. I've been using it mostly on the face most days and apply it like I would a face mist, buff it in with the brush and you're done. So quick.
*Awesome Bronze Gorgeous Sunkissed Bronzing Cream in Goldielux – £16.50 for members (£40 for non-members). I am genuinely obsessed with this product. I've always been a fan of the powder version of this product, but the cream formula has taken it up a notch. It's blendable, buildable, healthy skin in a pot – seriously. Apply it with the Pro Bronze & Contour Brush* and thank me later.
*Supercheek in Astro Pink – £12.50 for members (£30 for non-members). There are two new shades of Beauty Pie's best-selling creamy cheek pots in the summer line-up, but I'd say that between the two I've found myself reaching for this one more. There is so much slide in the product which makes it easy to apply with your fingers, but once you start to blend it in it begins to melt into the skin and leaves such a beautiful glow to the cheeks.
*Deluxe Eyeshadow Quad in Smokey Rose – £15 for members (£40 for non-members). You know I love the Beauty Pie eyeshadow quads. HOW MANY TIMES have I raved about the gold one?! This slightly warmer, pinky tinged palette is perfect for summer, with two mattes and two shimmers designed to be used together or alone. Personally I love the matte peachy pink that's breaking me out of my warm brown shadow cycle.
*Wondergloss Collagen Lip Oil+ in Island Rose – £10 for members (£26 for non-members). I really love this formula. It's so glossy and light and even though there's a touch of shimmer in this rosy tinted gloss, it just translates to a juicy look on the lips. Never oily, nor sticky it somehow manages to sit right in the middle and just feel comfortable on the lips.
Remember to use my code ANNAEDITSENTME to get £10 off your Beauty Pie Annual Plus Membership, and you can shop the full summer glow collection here…
---
Photos by Mark Newton